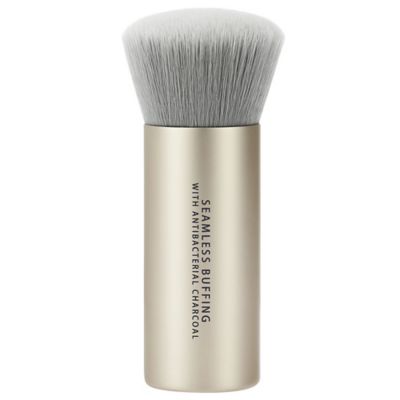 https://www.bareminerals.co.uk/makeup/collectionss/blemishresue_family/seamless-buffing-brush/UK86654.html
Seamless Buffing Brush with Antibacterial Charcoal
Foundation Makeup Brush
Charcoal-infused antibacterial fibres help repel bacteria and protect against contamination of this foundation brush. Read more
Additional Information
What it is:
This innovative makeup brush is made with special fibers infused with activated charcoal and antibacterial silver ions to help repel bacteria. Unlike brushes with a charcoal coating that can wash off with use, this antibacterial makeup brush is designed to stay cleaner for longer. The dense, rounded shape effortlessly buffs and blends for a smooth, seamless foundation application, while the elongated kabuki handle provides maximum control for building up coverage where needed, making it a perfect partner for blemish makeup. The Seamless Buffing Brush with Antibacterial Charcoal was specifically designed to apply bareMinerals BLEMISH RESCUE ™ Loose Powder Foundation. It can also be used with other foundations.
Why you'll love it:
*Vegan makeup brush with synthetic bristles *Brush fibres are infused with activated charcoal, which will not wash off with use *Specially designed for applying foundation to skin with blemish *None of our products are tested on animals
Our team suggests:
For best results, pair with the Seamless Buffing Brush with Antibacterial Charcoal. Specifically designed for use with bareMinerals BLEMISH RESCUE ™ Foundation, it features bristles infused with activated charcoal to help repel bacteria. How to apply loose powder foundation: -Swirl a small amount of foundation powder in the cap until it disappears into the brush. -Lightly tap away excess powder. -Buff into the skin in a circular motion, starting on the outside of your face and moving inward. For maximum blemish coverage: -Prior to applying loose powder foundation, spot apply BAREPRO ® 16-Hour Full Coverage Concealer to areas that need more coverage. -After applying concealer and foundation, use a flat brush, such as the Maximum Coverage Concealer brush, to concentrate additional foundation powder on problem areas. Your clear skin routine For the best results, we recommend starting with clean bareMinerals ® skincare designed for sensitive and blemish prone skin. Cleanse with BLEMISH REMEDY ® Gelee Cleanser and spot treat with BLEMISH REMEDY ® Serum before applying an oil-free moisturiser like TRUE OASIS ™ Replenishing Cream. Follow with bareMinerals BLEMISH RESCUE ™ Primer and Skin-Clearing Loose Powder Foundation.